Athletic Trainers & Iceless Cold Therapy Units
Athletic trainers can help your athletes recover from anywhere by applying the best recovery methods for athletes without any hassle.
Athletic Trainers & Cold Compression Therapy
Athletic trainers are responsible for conditioning athletes and helping them recovery between workout sessions. As all athletes know, injuries are unavoidable. However, there are recovery methods to help the body heal between workouts or athletic events.
Best Recovery Methods for Athletes

Recovery Tools for Athletes 

Iceless Cold Therapy Unit

Athletes and Injuries
If there is one thing athletes know it's that injury is part of athletics. While athletic trainers work hard to keep athletes safe, there are risks anytime an athlete takes to the field, works out in the gym, or participates in conditioning exercises.
It doesn't matter the age or level of competition. According to John Hopkins University, about 30 million children in teens in the United States participate in organized sports. From that number, there are 3.5 million recorded injuries each year. And, one-third of all injuries in adults are related to an injury they sustained as a child playing sports.
Of course, for some school-aged athletes, athletics continue in college. According to Science Daily, 29.3% of NCAA Division I athletes resulted from overuse, and the remaining 70% of injuries were defined as acute. As for professional athletes, injuries are on the rise. According to the Bureau of Labor Statistics, there are over 2,000 professional athletic injuries per 10,000 athletes annually.
This data tells us that as athletic trainers, your job is more important than ever to help your athletes get plenty of rest and recovery to avoid injuries.
Common Athletic Injuries
Athletic trainers are well versed in treating the most common athletic injuries such as sprains and strains, which are the most common injuries experienced among athletes of all ages. Both of these injuries are a result of overstretching or tearing ligaments or muscles. Many other athletic injuries are joint-related whether it be a knee injury, dislocation, or rotator cuff. These can be caused by multiple reasons including repetition.
Best Recovery Methods for Athletes
The most common recovery method for athletes has recently sparked controversy.
R.I.C.E., or recovery, ice, compression, and elevation has been the preferred treatment method for acute sports injuries. Dating back to 1978, these guidelines have been utilized by coaches and athletic trainers to reduce inflammation and expedite recovery.
But now, experts are saying this method could directly disrupt the recovery process by further damaging tissue causing the athlete to not recover to the full range of motion. Many say that while this method works well in some cases, it is simply outdated as there is more research showing the importance of mobilization for soft tissue injuries.
A new acronym, P.O.L.I.C.E.D gives a more holistic approach to treating soft tissue injuries. Protection, optimal loading, ice, core strength, education, and diet covers a wide range of treatment options for the healing process. It also takes away the idea that "rest" is the best way to avoid injury as opposed to a protected recovery.
Protect
Protect means avoiding further soft tissue damage, however, it doesn't mean full immobilization. An example of "protect" is utilizing crutches to keep weight off of the injured tissue, while remaining active and completing normal daily tasks.
Optimal Loading
This step stimulates the healing process by slowly increasing movement to the targeted area. So, while you are protecting the damaged tissue, an athletic trainer can recommend exercises or stretches to slowly increase movement back to the injured location.
Ice
While R.I.C.E. is considered outdated- cold therapy remains part of the equation when it comes to recovery. Utilizing ice helps decrease pain and swelling, allowing the body to recover and the athlete to be comfortable.
Core strength
While protecting the location of the injury, there are still core exercises that athletes can do to stimulate healing. Core strength provides stability beneath affected muscles and helps with movement and pain reduction.
Education
Education is something that athletic trainers can pass on to their athletes. By fully understanding the injury and how to treat it, trainers can pass along sound advice and a recovery plan that is backed by science.
Diet
Different foods can stimulate healing and help reduce inflammation. But having a well-balanced diet, athletes can fuel their body toward a speedy recovery.
Click here to learn about best recovery methods for athletes.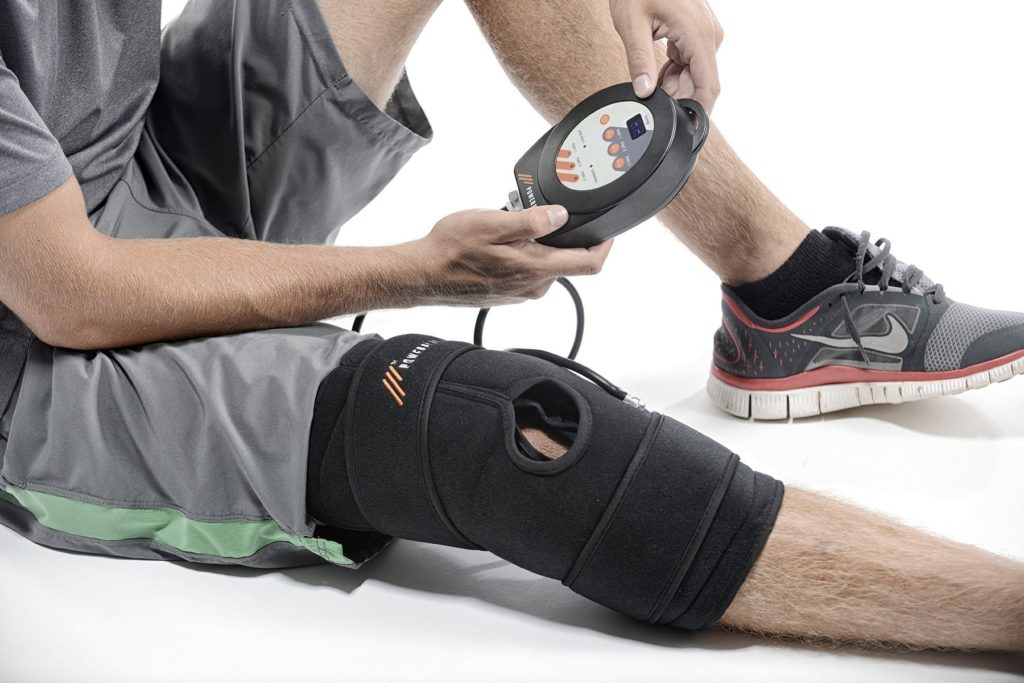 Recovery Tools for Athletes
There are several tools that athletic trainers can utilize for athletes ranging from common recovery tools to investment pieces. For example, many athletic trainers utilize foam rollers when working with athletes to help them avoid soreness and stiffness within deep tissue. Foam rollers also help to warm up muscles before a workout to avoid injury.
Even when utilizing the P.O.L.I.C.E. or R.I.C.E. methods, there are various recovery tools for athletes that athletic trainers can rely on. One common recovery tool is ice, which can be problematic depending on where treatment is taking place.
Gel packs as opposed to ice are great in that they accomplish the same result as ice but without water or risks of mold. In addition, trainers do not have to travel with large ice machines to treat an athlete. 
Check out the best recovery tools for athletes according to one athletic trainer.
Iceless Cold Therapy Unit
Cryotherapy helps soothe soreness between workouts and helps reduce swelling and pain after an injury. However, providing cold therapy on the spot can be a challenge.
Large ice machines are difficult to transport from a clinic, to the sidelines, and while traveling. In addition, ice and water lead to messes as well as molded wraps.
Gel packs allow you the flexibility of transporting a cooler without ice and water. It takes roughly one hour to freeze a gel pack and it can stay chilled within a cooler for 4-6 hours. Another benefit- gel can mold to your body, allowing your injury to get an even amount of cold. Iceless cold therapy is a great way to provide cryotherapy to athletes during the recovery process.