Cold Compression Treatment for Physical Therapists

Whether you are treating multiple patients at one time, or suggesting some form of at-home recovery for patients, physical therapists utilize cold compression therapy to aid with recovery.
Benefits of Cold Compression Therapy

Pneumatic compression therapy

Cold therapy machine (no ice)

The demand for physical therapy continues to increase.
It's no secret that PT is a high-demand medical service, helping people recover or prevent injuries. On average, physical therapists see between 20-25 patients per day. And with orthopedic surgeries steadily increasing each year, physical therapy will also continue to grow in demand.
This field is projected to increase 21% over the next decade, with a demand for 15,000 new physical therapy jobs each year. Physical therapists, especially those working in private practice, must figure out how to meet the increasing demand.
At PowerPlay, we see physical therapists using two smart ways to handle rising patient numbers. One, help patients recover at home between sessions with at-home treatments, like at-home cold compression therapy. Two, treat multiple patients at one time while in the clinic.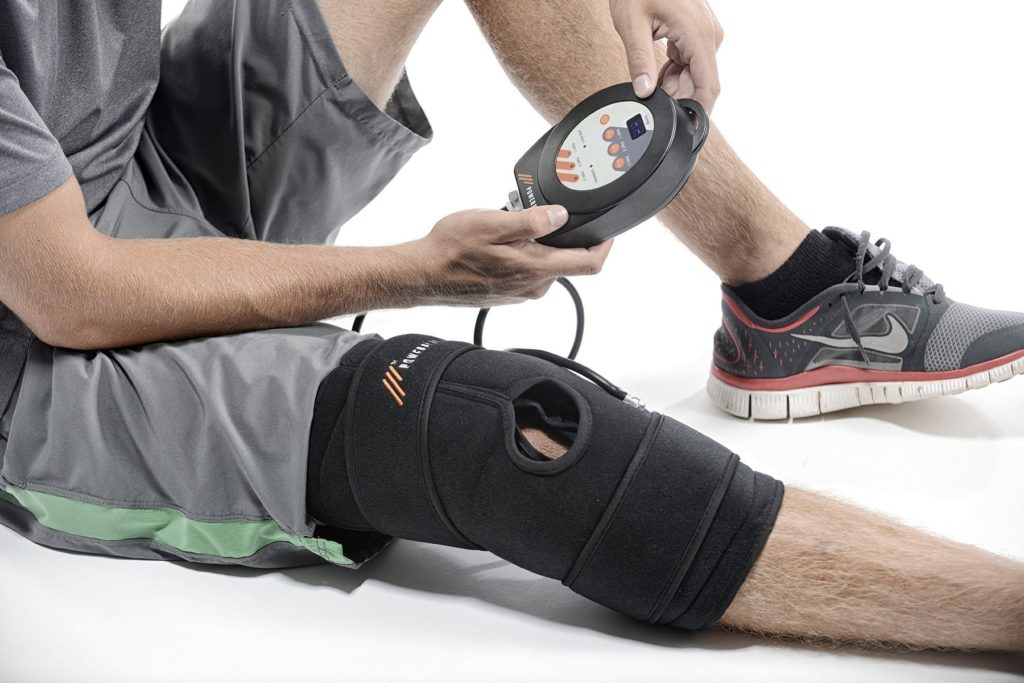 Cold compression therapy benefits for those receiving PT treatment  
Physical therapists looking for effective, time-efficient treatments should consider cold compression therapy. Cold therapy works by constricting blood vessels which reduces swelling and pain. Cryotherapy reduces the size of bruising because it slows down blood flow to an injured area. Applying ice (with a protective barrier) also prevents tissue damage caused by hypoxia due to the decrease in the soft tissue's metabolism.
Studies have shown that the combination of cold therapy and compression therapy have a whole host of benefits compared to cryotherapy alone. For physical therapy, this can help patients recover between PT sessions. Aside from faster recovery time, patients can experience a reduction in pain, swelling, and edema. The combination also stimulates blood flow, increasing healing.
This type of treatment can be carried out on any joint including back, knees, ankles, elbows, or wrists. A few additional benefits of this simple treatment include:
Reducing Swelling
Pain management
Delivering oxygen to injured area
Aiding in tissue repair
Pneumatic compression therapy benefiting patients in a physical therapy setting.
Over the past several years, pneumatic compression has become known as a powerful alternative to static compression. Pneumatic compression involves a wrap being placed around a joint that is attached to a pump. Then, the pump inflates the wrap to apply pressure to a joint for 10 seconds, before releasing and re-inflating.
While this type of treatment is commonly used in hospital settings, physical therapists are also seeing major benefits with their patients, both inside the clinic and as a part of at-home treatment plans.
Intermittent pneumatic compression (IPC) improves circulation in a region. This means it's a fantastic tool for Complete Decongestive Therapy, since compression reduces swelling caused by the build-up of lymph in soft tissue.
Cold therapy machines aid in pain and swelling, allowing for productive physical therapy sessions. 
As we've covered, intermittent pneumatic compression improves overall circulation. But adding cold therapy to the equation adds even more benefits to the treatment.
Cryotherapy alleviates pain and reduces swelling, allowing for a faster recovery. By decreasing pain, PTs can rely less on painkillers for their patients and instead rely on natural means of restoring the body. Cold therapy decreases circulation, which reduces swelling but can also alleviate muscle spasms or cramping. Ice should only be applied in 20 minute increments.
Ice is typically used for inexpensive cold therapy. However, logistically in a physical therapy office, ice can cause additional issues. For one, ice and water are messy and can lead to mold on wraps unless wraps are cleaned each day and laid out flat to dry. Ice can also be difficult to use without a large ice machine handy.
PowerPlay compression devices use gel packs instead of ice, allowing physical therapists to freeze the packs in a freezer and then treat patients without mold, water, or mess.
Cold Compression Kits Support Surgical Recovery. 
It's not uncommon for patients who have undergone a surgery to be required to attend physical therapy. While the PT will work with the patient toward recovery, sometimes sessions can be painful or lead to soreness. However, utilizing cold compression therapy can help with surgical recovery, as well as recovery between physical therapy sessions.
The goal of physical therapy is to help get patients mobile and fully recovered. But getting patients moving post-surgery isn't always easy. Between surgical pain and recovery pain, many surgeons will prescribe opioids to manage pain levels. However, with the growing epidemic of opioid abuse, many physical therapists are getting creative with treating pain without additional medication. The National Center for Drug Abuse Statistics estimates that 10.1 million people misused opioids within a year.
One way to combat opioid misuse is to use non-narcotic resources to treat pain. After a PT treatment, cold compression units can be used to promote rest, ice, and compression — all of which are essential elements in physical recovery.
Of course, there are some surgical situations where strong pain medication should be prescribed. But when it comes to pain management, physical therapists should consider cold therapy. By reducing inflammation and numbing nerve endings, compression therapy allows patients to get relief without potentially addictive medication.
PowerPlay provides cold compression wraps that are made for specific joints, allowing for easy use after an orthopedic surgery. Each wrap can be adjusted so that patients are comfortable during this form of recovery. The pain pumps by PowerPlay also allow for three ports, allowing therapists to treat multiple areas on one patient, or treat three patients at one time.
So while these cryotherapy products are made to aid in surgical recovery and promote healing between physical therapy sessions, reducing opioid abuse is another major benefit.
Bringing cold compression therapy into your practice.
As we've discussed, there are several use cases for physical therapists bringing cold compression therapy in their practice. Whether it's helping a patient recover from injury or surgery, preventing future injuries, or even treating a particular lymphatic condition, cold compression therapy is a great alternative to medications that have undesirable side effects.
There are multiple ways that you can add PowerPlay's products into your practice. When comparing our products with competitors, PowerPlay is often a very affordable choice that is also dependable for customers. This allows PT offices to budget for several different wraps. Alternatively, patients can purchase directly from us at a reasonable rate.
Physical therapists can also become PowerPlay distributors and sell our products for less than the price listed on our website. Learn about becoming a distributor.
PowerPlay's kits come with everything you need to get started with cold compression therapy in your practice, with the exception of a freezer, fridge, or ice chest to cool the gel packs. Plus, our compression pumps have three ports allowing PTs to treat multiple patients at one time, allowing for less overhead when purchasing kits.
Give your athletes the treatment they need, and try out our cold and compression therapy products. You can also sign up for our newsletter to stay up to date on our latest products, news, and offers.